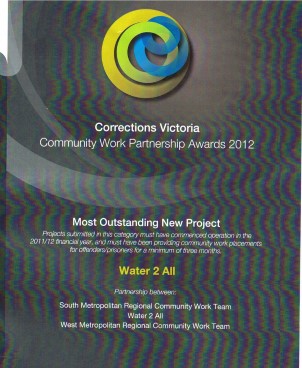 Water 2 All has been awarded Corrections Victoria's Community Partnership Award!
A big Thank You goes out to everyone who helped make this possible.
The awards honor community-based organisations working with offenders in innovative and dedicated ways. The programmes offered by nominated organisations focus on involving individuals in the penal system give back to the community as part of their community service commitments. The community benefits from the work that they do, and the programme offers a form of rehabilitation for offenders to help them stay on the right path and re-join society.
These work programs offer a source of work for offenders to use their time to repay the community while learning skills that will help them re-enter the workforce after their sentences have been completed.
Water 2 All is honored to receive such an important recognition that reflects the benefits that community work partnerships can bring.