Water Jobs: An article by Nicole Williams of The Star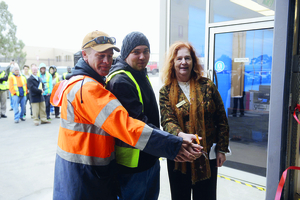 Water Jobs
A NEW not-for-profit organisation has officially opened in Dandenong.
Water 2 All distributes bottled water and clothing to people in need and offers warehouse training for people seeking work.
It was officially opened by Greater Dandenong mayor Roz Blades on Monday, although it has already been operating for 10 weeks from the Dandenong South warehouse.
Water 2 All director Keith Kasimiotis said the first training program was a success.
"We have had outstandingsuccess with our first program,of the 13 that completed andwere deemed to be job ready,we have six in work as wespeak and the others going through interviews now," Mr Kasimiotis said.
"We are really exited by that and encouraged that our process is working."
Water 2 All is linked with job service providers to offer six week on-site experience and training for job seekers.
"They get practical experience by actually working in a warehouse and the routine of working everyday," he said.
Mr Kasimiotis said Water 2 All also supplied water and clothing to pre-registered charities.
It has received clothing from Prahran Mission and other businesses and is open to receiving donations from the public.
For more information about Water 2 All or to make a donation please call 9768 2374.